Title:
Crossing
Author:
Andrew Xia Fukuda
Year:
2010
Page:
217
Genre:
Fiction
New to me author?
Yes
Read this author again?
Maybe
Tearjerker?
No
Where did it take place?
US
FTC Disclosure:
Part of Crazy Book Tours
Summary
(from
goodreads.com
):
A loner in his all-white high school, Chinese-born Xing (pronounced "Shing") is a wallflower longing for acceptance. His isolation is intensified by his increasingly awkward and undeniable crush on his only friend, the beautiful and brilliant Naomi Lee. Xing's quiet adolescent existence is rattled when a series of disappearances rock his high school and fear ripples through the blue collar community in which he lives. Amidst the chaos surrounding him, only Xing, alone on the sidelines of life, takes notice of some peculiar sightings around town. He begins to investigate with the hope that if he can help put an end to the disappearances, he will finally win the acceptance for which he has longed. However, as Xing draws closer to unveiling the identity of the abductor, he senses a noose of suspicion tightening around his own neck. While Xing races to solve the mystery and clear his name, Crossing hurtles readers towards a chilling climax.
First Sentence:
In the heady days of that winter, my name and face were plastered on the front page of every major newspaper and weekly newsmagazine.
Why did I pick this book?
I'd read about this book from several blogs (sorry I forgot to write down where!) and the premise intrigued me. So when it became part of the
Crazy Book Tours
, I didn't hesitate to sign up!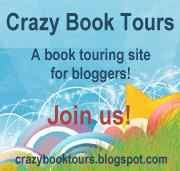 My thoughts:
I was disappointed... it wasn't quite what I thought it'd be. Probably because I thought it'd be more like a mystery/thriller, but it definitely was a more character-driven novel
I didn't like the protagonist, Kris/Xing. Some people said they felt bad or strongly sympathetic towards him. I didn't. Maybe because I identified more with Naomi, the girl Xing secretly liked. It's not to say Xing wasn't realistic, but I think he had options that he chose not to take. I guess I just never liked "woe-is-me" characters. He just frustrated me, especially when he kept comparing himself to this real-life person (I won't say who it was... want to avoid spoiler). But did the other people really thought he was like that person, or was it just in Xing's head?
Supposedly Xing was an English-as-a-Second-Language student (from knowing no English to having lived in America for 7 years). However the prose was too sophisticated for someone whose English was not a first language. Yes I know, because I was an ESL student. Especially if Xing described himself as, "Her English was Julie Chen perfect; mine was Jackie Chan cumbersome." Jackie Chan definitely doesn't speak like Xing's 1st person point of view in the book. (And I have no idea who Julie Chen is?)
I didn't quite understand the use of the race card... if it was such a racist town, why the students weren't racist towards Naomi - just because she was smart and pretty?
I didn't find the ending chilling. In fact, it was rather confusing to me, and I had to re-read, and re-read. Maybe I was just dumb... and had to google to confirm what I thought happened... I guess I just didn't like ambiguous ending
I don't know, I expected I could identify with the protagonist, but I just didn't. If what happened to the protagonist was supposed to make me feel sad for him, it turned me off instead.
I am not sure about the cover represented the story well either. It reminded me of the cover of Shadow Tag. What did the red star represent (China?)
Rating: 2 Stars
Have you read this book?
If you have, I would love to hear what you think! I'll link your review here if you wish!



Challenges:
100+ Reading