Title:
With One Eye Open
Author:
Polly Frost
Year:
2010
Page:
164
Genre:
Non-Fiction - Humor
New to me author?
Yes
Read this author again?
Maybe
Tearjerker?
No
Where did it take place?
US
FTC Disclosure:
Part of Crazy Book Tours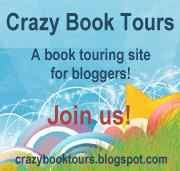 Summary
(from
goodreads.com
):
Polly Frost's humor book, With One Eye Open, brings together twenty-five of her funniest stories, essays and pieces. Her targets for delicious satire include blogaholism, fitness trends, gamers, sex writers, carbohydrate addicts, and friendship in the age of the internet and cellphones. Polly's humor has been published in numerous magazines including The Atlantic, The New Yorker, Grin & Tonic and Narrative. Four of her humor pieces were selected for The New Yorker "best of" anthologies Disquiet, Please! and Fierce Pajamas.
First Sentence:
Do any of these symptoms fit you?
Why did I pick this book?
This book was offered at the
Crazy Book Tours
. A funny book? I could use one!
My thoughts:
It was a fast read. However, I don't think I am really the target audience for the book. I have more of a dark sense of humor so I didn't really have any LOL moments when I read this book. There were a couple of pieces I could relate to but the rest I kinda skimped through...
The two stories I liked the best were Goodbye, ! (see quote below) and My Diagnosis
It doesn't mean this book isn't funny for others, as other's testimonies (back of book, online etc) enjoyed the author's sense of humor. But humor is a funny thing (no pun intended :) it's rather subjective - e.g. I never thought Jim Carrey's movies were funny. Others thought Janet Evonovich's Stephanie Plum books were funny, I read the first one, and failed to see the humor, I thought she was kinda dumb (I guess I was used to very smart protagonist in murder/mystery books, like Lincoln Rhythm)
I have to say the cover won't make me pick up the book... the photo was underexposed, and didn't really convey the book content
I am giving it it 2 stars because according to my rating scale, it means Not really for me... but others may like it
Quote:
Now when I get emails from friends who don't use a lot of exclamation points, I wonder if they're mad at me. Why didn't they write "Hi Polly!!!!"? And are they being sarcastic if they simply write "Congratulations." rather than "Congratulations!!!!!!!!" (p7)
Rating: 2 Stars
Have you read this book?
If you have, I would love to hear what you think! I'll link your review here if you wish!



Challenges:
100+ Reading
Non-Fiction Five