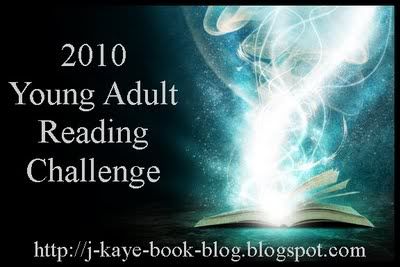 J. Kaye's Book Blog is hosting the 2010 Young Adult Reading Challenge. More info
here
.
Challenge begins January 1st thru December, 2010.
Audio, eBooks, re-reads all count.
No need to list your books in advance. You may select books as you go. Even if you list them now, you can change the list if needed.

My thoughts
:
I want to read more YA this year (I found them to be more straight forward!). There are 4 levels (12, 25, 50 and 75 books) and since I read less than 30 fiction last year, I will stick with the 12 books Mini Challenge.
My list
:
Stargirl by Jerry Spinelli

The Hate List: A Novel by Jennifer Brown

Liar by Justine Larbalestier
The Adoration of Jenna Fox by Mary E Pearson
Jin-Ling's Two Left Feet by Helen Chen
The Hunger Games by Suzanne Collins
Twenty Boy Summer by Sarah Ockler
Love is the Higher Law by David Levithan
The Forest of Hands and Teeth by Carrie Ryan
The Dead Toss Waves by Carrie Ryan
American Born Chinese by Gene Luen Yang
Catching Fire by Suzanne Collins
The Body Finder by Kimberly Derting

[EXTRA!!!]

House of Dark Shadows (Dreamhouse Kings #1) by Robert Liparulo

[EXTRA!!!]

The Maze Runner by James Dashner

[EXTRA!!!]

Flowers for Algernon by Daniel Keyes

[EXTRA!!!]

Lessons from a Dead Girl by Jo Knowles

[EXTRA!!!]

Unwind by Neal Shusterman

[EXTRA!!!]

Inside Out by Maria V. Snyder

[EXTRA!!!]

Life As We Knew It by Susan Beth Pfeffer

[EXTRA!!!]

Mockingjay (#3 of the Hunger Games) by Suznne Collins

[EXTRA!!!]

Out of My Mind by Sharon M. Draper

[EXTRA!!!]

Please Ignore Vera Dietz by A.S. King

[EXTRA!!!]
Challenge Participants
'
Reviews
.
Wrap Up / Complete List
for participants
here
.